Test Packages & Pricing
We are a state-of-the-art laboratory that delivers consistent and honest results, quickly and economically
The Confidence Analytics Label Guarantees: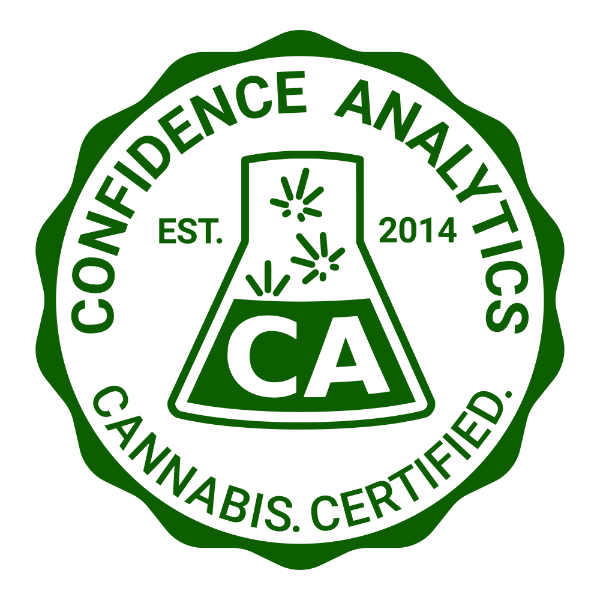 Products are tested under reproducible methods
An easy-to-understand yet scientifically-based report of the methods performed
Customer confidence that products are legal and safe with accurate chemical and microbiological analysis
Flower & Concentrate Package Pricing
Using complex procedures for sample preparation, the laboratory is able to identify the percent composition and distinguish between active and inactive forms of cannabinoids present in even a small sample.
Green Plant Material (GPM)
Dried Flower, Trim, Hash, Kief, Rosin, and Prerolls. Undried GPM is not accepted
$120
Package Includes:

Cannabinoids
Mycotoxins
Microbial/Aw
Turnaround: 3-10 days.
Sample Size: 4g flower, 2g all other types
---
Solvent Extract
Shatter, Distillate, Waxes, etc.
$120
Includes:
Package Includes:

Cannabinoids
Mycotoxins
Residual Solvents
Turnaround: 3-10 days.
Sample Size: 2g
---
Add Pesticides to Any Compliance Test
+$70
Includes:
Package Includes:

Applicable Compliance Tests
Pesticide Screening
Total Price Only $190!
---
'Tested With Confidence' Package
$160
Includes:
Package Includes:

Applicable Compliance Tests
Pesticide Screening
Terpenes
Infused Solids and Liquids
Analyses for ensuring product safety for edible and topical Cannabis products and any infused solids, oils, fats, liquids, or others as defined by traceability.
Cannabinoids
$85
For edibles/liquids: 1 unit/10 mg THC serving required for testing, 2 units preferred as a backup, additional servings may be required for capsules or lozenges. For Topicals/Fats: 5-7 grams.
---
---
Tested, Analyzed
& Measured Cannabinoids
THC

Tetrahydrocannabinol

The compound most associated with the psychoactive effect

THCA

Tetrahydrocannabinolic Acid

The predominant form of the molecule in raw material

CBD

Cannabidiol

The compound most associated with medicinal properties

CBDA

Cannabidiolic acid

The predominant form of the molecule in raw material
CBG

Cannabigerol

The precursor to THC & CBD in the biosynthesis pathway;
shown to reduce intraocular pressure

CBGA

Cannabigerol acid

The predominant form of the molecule in raw material

CBC

Cannabichromene

Has a suggested role in the anti-inflammatory, antiviral and analgesic effects of cannabis

CBN

Cannabinol

The primary breakdown product of THC & CBD with known sedative and anxiolytic properties
THCV

Tetrahydrocannabivarin

Similar to CBD, THCV appears to modulate THC uptake

THCVA

Tetrahydrocannabivarin Acid

The acid form of Tetrahydrocannabivarin

CBDV

Cannabidivarin

Appears to have strong potential for treatment of epilepsy
CBT

Cannabicitran

Research to date has been limited to molecular structure

d8-THC

delta-8 Tetrahydrocannabinol

A less psychoactive isomer of the commonly found d9-THC
Individual Test Pricing
Whether it's flowers, extracts, infused edibles or topicals, we use High-Performance Liquid Chromatography for cannabinoid profiling to ensure consistency of results.
Any Single Test
One sample of green plant material or concentrate using gas chromatography to detect and quantify terpenes, terpenoids and residual solvents for extracts.
Cannabinoids
Does not apply to infused solids & liquids.
$50
Using High-Performance Liquid Chromatography, the gold-standard for the cannabis industry, to deliver a cannabinoid profile of unbeatable accuracy.
---
Mycotoxins
$50
Includes:
Highly sensitive screening regimen for toxic chemicals produced by some fungi. Mycotoxins can cause both short-term and long-term negative health effects.
---
Microbial
w/ Water Activity as appropriate
$50
Includes:
Screening for contamination of BTGN bacteria, a broad category of micro-organisms that include Salmonella spp. and E. coli. Water activity is a measure of how much un-bound water is available for microbial growth. Water Activity is a useful indicator of shelf stability and freshness.
---
Fungal
$50
Includes:
Additional test for yeast and mold that is no longer state-mandated. Available on request. Requires 48 hours incubation.
---
Residual Solvents
$50
Includes:
Now enhanced by mass spectrometry to give a detailed look at solvent impurities. New WSCLB rules require a rigorous screening for contaminants.
---
Terpenes
$50
Includes:
How well do you know your strains? Every strain has a unique chemical signature, evolving over time, and governed by not only genetics, but growing environment, curing, trimming, handling, packaging, and extraction methods.
---
Pesticides
Green Plant Material and Concentrates
$120
Includes:
Screening material pre-extraction, post-extraction, and final product. The Pesticide Test is a comprehensive screening for the most commonly abused and enforced against insecticides, fungicides, and plant growth regulators.
---
Pesticides
All other sample types
$250
Includes:
Sample metrices that are primarily non-cannabis may also be screened for excessive pesticide residue.
---
Heavy Metals
$120
Includes:
For compliance with
DOH Chapter 246-70 WAC
. 7-10 day turnaround time is dependent on reference lab. 1g flower or concentrate required.
---
Vitamin E
$100
Includes:
Screening all sample types for two isomers of Vitamin E (ɑ-tocopherol and ɣ-tocopherol) and Vitamin E Acetate.
Packages
Receive discounts by combining tests on sample Packages. Any combination of Individual Tests can be applied to the same sample to achieve the greatest value. Only applies to Green Plant Material and Solvent Extracts. Pesticide Test pricing applied independently.
| | | | |
| --- | --- | --- | --- |
| Number of Tests | Full Price | Discount | You Pay |
| One Test (no discount on first test) | $50 | (-) | $50 |
| Two Tests (second test costs $40) | $100 | ($10) | $90 |
| Three Tests* (third test costs $30) | $150 | ($30) | $120 |
| Four Tests* (fourth test costs $20) | $200 | ($60) | $140 |
| *Add Pesticides for only $70! | $220-270 | ($80-110) | $190-210 |