The Cannabis Central Reporting System (CCRS) – it's a GO for December.
This blog post is part of a series. See our other recent updates on CCRS traceability: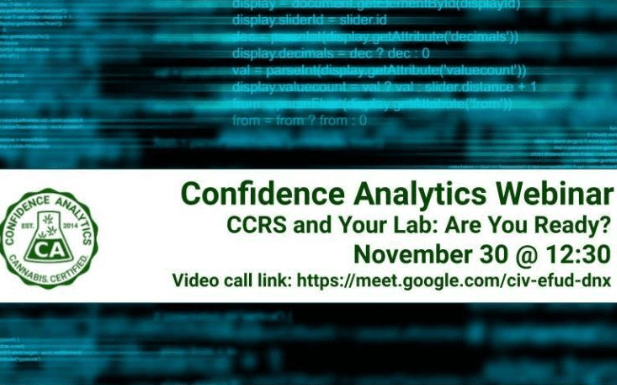 Yesterday the WSLCB responded to an inquiry from the Cannabis Observer's Gregory Foster. The Cannabis Observer reported: "November 17th was the 'go/no-go decision point' for the internal WSLCB CCRS Traceability Steering Committee to decide whether to proceed… said [CFO Jim] Morgan, and 'at this point, all signs are pointing to that being a go'."
SO folks, as we have suggested in our earlier blogs – NO MORE TIME TO DELAY! Let us direct you to the most recent WSLCB bulletin on "How to Prepare for Success in CCRS: A "Quickstart" Guide for Licensees."
More Resources.
Another resource: the WSLCB webinars, available on YouTube. Check them out – WSLCB Webinar September 8, 2021 and WSLCB Webinar October 4, 2021.
Also, a little more information on CCRS traceability integrators – Washington state has approved POSaBIT as an approved integrator. Other approved integrators include:
Bamboo Metrix LLC

Cultivera

Dauntless

Greenbits

GrowFlow

Intelligent Automation Consulting LLC

Klick Track

Leaf Logix Technologies

Mister Kraken

OpenTHC

POSaBIT 
As we reported earlier, the integrators have formed a consortium called the Washington Cannabis Integrators Alliance (WCIA) to develop technology standards and interoperability solutions after the cut-over date.
We can help.
And finally, let Confidence help you in navigating the lab integration portion of the CCRS traceability. You can read through our past blogs AND you are invited to attend our webinar on November 30th. Reach out to info@conflabs.com for more information. The time is fast approaching to be sure everyone on your team and the other licensees you do business with are prepared and informed. Are you going to be ready?!? We are. And we can help.