For up-to-date information, follow Confidence Analytics

@ConfAnalytics |


@confidence_analytics | #TestedWithConfidence
La vitamina E y el vapeo. Lo que necesita saber. La versión en español está disponible aquí.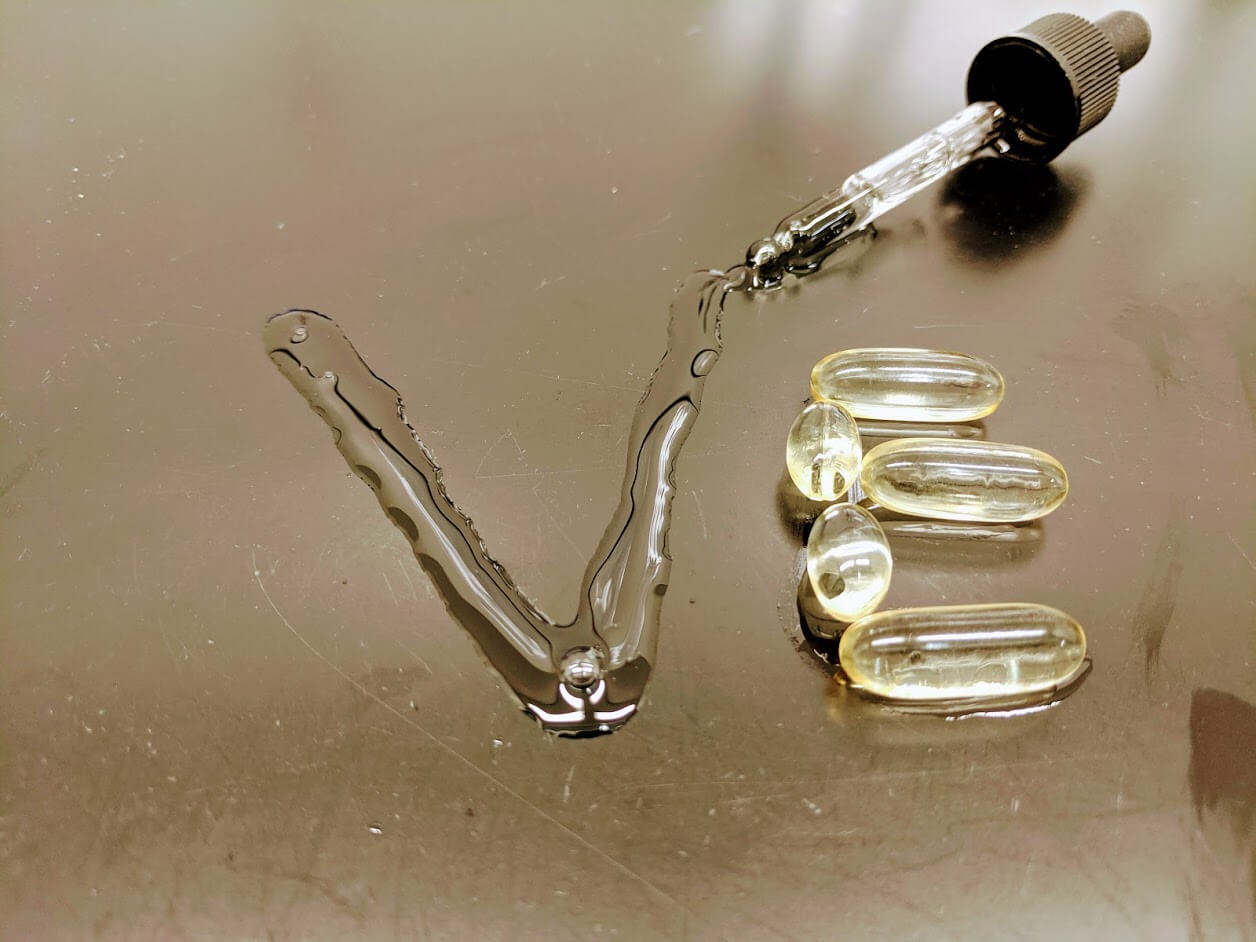 Vitmain E Pills and Dropper. Viscosity similar to vape juice.
What is Vitamin E Acetate?
Vitamin E (also known as tocopherol) is a naturally occurring vitamin, essential to a healthy human diet and commonly found in food and supplements. Vitamin E is a fat-soluble antioxidant, which protects cell membranes and promotes a healthy nervous system.[1] 
Vitamin E is available over the counter at most pharmacies. Most often, it is sold as Vitamin E Acetate, and in this form it can penetrate the skin. Topical application of Vitamin E Acetate may be beneficial for wound healing and protective against ultraviolet radiation, though there is no scientific consensus for this.[2][3]
Why would Vitamin E Acetate be in a vapor product?
Vitamin E Acetate is commonly added to food ingredients as a preservative. The antioxidant properties of Vitamin E Acetate make it useful for reducing the oxidative degradation or "browning" of foods, especially oils. Cannabis oil distillates, in particular, are susceptible to oxidative degradation, causing the oil to change color from clear or light yellow to rose or deep red. Adding Vitamin E Acetate to a cannabis oil distillate may preserve its color. 
Vitamin E Acetate blends (or "mixes") more readily with cannabis oil than do more "traditional" vaping ingredients typically found in nicotine e-juice, such as propylene glycol and vegetable glycerine. Vitamin E Acetate may be used to thin a cannabis oil or thicken a terpene extract.
Is Vitamin E Acetate harmful?
The National Academy of Medicine recommends adults consume 15 mg of Vitamin E per day.[4] Regular consumption of Vitamin E at the recommended level has been associated with a decrease in risk for Alzheimer's disease, cancer, and a variety of cardiovascular and neurodegenerative diseases.[6][7] 
Food. The US Food and Nutrition Board and the European Food Safety Authority both consider Vitamin E tolerable when consumed orally at amounts of less than 300 milligrams per day.[4][5] Consuming Vitamin E in higher amounts has been linked to excessive bleeding, drug interactions, and an increase in all-cause mortality.[2][8][9]
Skin. Topical application of Vitamin E is very common despite no scientific consensus of health benefits. In rare cases, topical application of Vitamin E has been associated with contact dermatitis, an allergy of the skin.[10]
Lungs. Vaporizing Vitamin E into the lungs is a relatively new behavior among Americans, and the risks associated with it are currently under intense scrutiny. In 2019, there has been a surge of vaping-related illnesses and deaths reported across the United States [11]. While the cause(s) of the illness(es) remains unknown, the Centers for Disease Control and Prevention (CDC) in cooperation with the Food and Drug Administration (FDA) are actively investigating, as are state agencies [12]. The FDA has announced they suspect Vitamin E Acetate may be the cause of vaping-related deaths. The CDC is urging Americans to only purchase vape products from trusted sources, and to consider cessation of vaping altogether. 
How do I know which vapor products are free of Vitamin E Acetate?
When in doubt, don't purchase or consume a product you don't trust. Only purchase from licensed retail. Review products online to verify their authenticity. Ask you budtender for advice. Most vaping-related illnesses have been associated with illegal cannabis products [11]. Trust but verify, ask for proof that your product is free of contaminants.
Confidence Analytics offers Vitamin E Acetate testing of vapor products. 
(206) 743-8843 |  https://www.conflabs.com
Which brands can I trust?
The voluntary "TESTED WITH CONFIDENCE" program is a listing of brands committed to transparent and holistic product manufacturing practices, going above and beyond state requirements for quality assurance. The current protocol under the TESTED WITH CONFIDENCE program has included terpene and pesticide testing of all finished products, to ensure purity. In keeping with this philosophy, the program is currently developing a strategy to screen products for Vitamin E Acetate.  Look for the logo when identifying trustworthy brands.
TESTED WITH CONFIDENCE affiliation is not a guarantee or endorsement that a product is free from Vitamin E Acetate. Nor has it been confirmed that Vitamin E Acetate is the culprit in these vaping-related illnesses and deaths. TESTED WITH CONFIDENCE is a brand pledge from cultivators and manufacturers in their commitment to quality assurance.
I think I may have an illness related to vaping, what should I do?
Doctors say anyone vaping who develops respiratory distress, including coughing, difficulty breathing and chest pain, should consult a clinician immediately.
Read More:
Heylo Extracts Blog – How To Protect Yourself with Cannabis Vapes.
Leafly Health – Vape Pen Lung Disease Has Insiders Eyeing Misuse of New Additives.
ABC News – New York issuing subpoenas to 3 companies amid vaping crisis.
Images courtesy of

@that_vazquez_again and

@torihydrocannabinol
References:
[1] "Vitamin E". Office of Dietary Supplements, US National Institutes of Health. 12 July 2019.
[2] Beijersbergen van Henegouwen G, Junginger H, de Vries H (1995). "Hydrolysis of RRR-alpha-tocopheryl acetate (vitamin E acetate) in the skin and its UV protecting activity (an in vivo study with the rat)". J Photochem Photobiol B.
[3] Panin G, Strumia R, Ursini F (2004). "Topical alpha-tocopherol acetate in the bulk phase: eight years of experience in skin treatment". Ann. N. Y. Acad. Sci. 1031: 443–447
[4] Institute of Medicine (2000). "Vitamin E". Dietary Reference Intakes for Vitamin C, Vitamin E, Selenium, and Carotenoids. Washington, DC: The National Academies Press. pp. 186–283.
[5] Tolerable Upper Intake Levels For Vitamins And Minerals (PDF), European Food Safety Authority, 2006
[6] Li FJ, Shen L, Ji HF (2012). "Dietary intakes of vitamin E, vitamin C, and β-carotene and risk of Alzheimer's disease: a meta-analysis". Journal of Alzheimer's Disease. 31 (2): 253–8
[7] Kirmizis D, Chatzidimitriou D (2009). "Antiatherogenic effects of vitamin E: the search for the Holy Grail". Vascular Health and Risk Management. 5: 767–74.
[8] Podszun M, Frank J (December 2014). "Vitamin E-drug interactions: molecular basis and clinical relevance". Nutrition Research Reviews. 27 (2): 215–31. 
[9] Miller ER, Pastor-Barriuso R, Dalal D, Riemersma RA, Appel LJ, Guallar E (January 2005). "Meta-analysis: high-dosage vitamin E supplementation may increase all-cause mortality". Annals of Internal Medicine. 142 (1): 37–46.
[10] Kosari P, Alikhan A, Sockolov M, Feldman SR (2010). "Vitamin E and allergic contact dermatitis". Dermatitis. 21 (3): 148–53.